Wellness and Socialization Groups
Part of the mission of CHOICE of NY is to address the needs of our clients with sympathy and compassion that they may not experience in more traditional agencies. In many cases, the first step is to build a connection of trust and understanding that allows the client to open up and accept the possibilities of true healing and progress. Our socialization groups provide the perfect forum for both relationship building and personal growth.
Many of our clients participate in our weekly groups: Visual Arts, Hearing Voices Network, CARDIO DrumFIT, Freedom From Smoking Group, and Creative Writing. Through these groups, clients learn to express and explore their feelings and motivations. The non-threatening, group-oriented atmosphere provides a sense of camaraderie and support not found elsewhere.
Please consider supporting our mental health wellness programming. Many of the services we provide here are not covered by medicaid. Your recurring donation of just $10 a month can:
*Purchase 10 blank canvases for our art group
*Transport one client per week to our groups
*Fund the downloading of music for our music group
Here is our current Socialization Group Schedule, and descriptions of each program are below.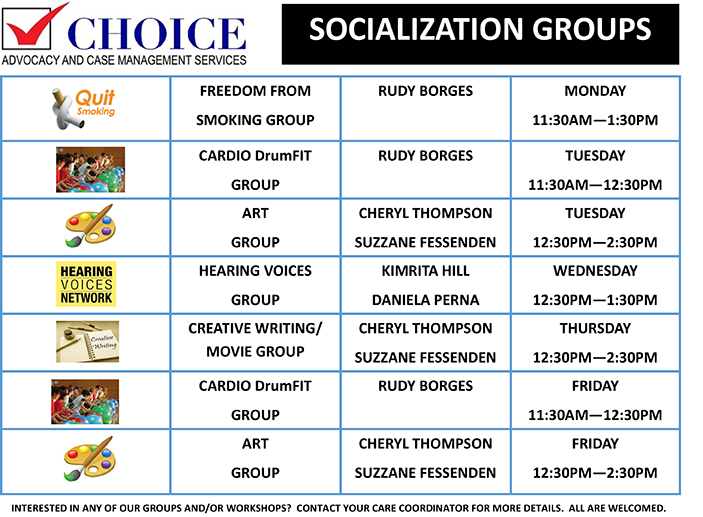 CARDIO DrumFIT


In Socialization Groups, we've recently added a cool, fun, hip new CARDIO DrumFIT Group. Cardio DrumFit gets you moving with high-energy music as you use a stability ball and drumsticks. It's wonderful for both physical and mental fitness..and it's great fun. The workout uses a variety of choreography/dance exercises incorporating the use of the ball and drumming like a rock star!
Here's a video about DrumFIT if you're interested in learning more: https://www.youtube.com/watch?v=mJ8peaFgulk
 Stop Smoking Now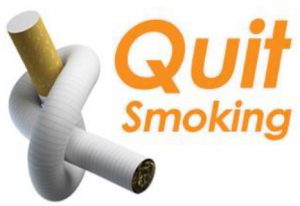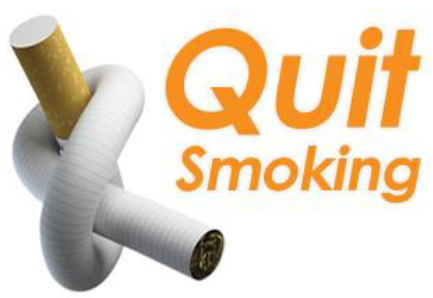 A weekly group faciliated by lung specialist, DR. JOSEPH D. GRANDERSON, M.D.. Clients, family, and friends are welcome but registration is required. Give us a call to find out when this rotating program begins.
The 8-week program covers:
Nicotine Addiction Triangle
Motivation to quit
Smoking Triggers
Review of Quit Medications
Establishing a Quit Date
How to overcome urges to smoke
Coping with stress
Weight gain, exercise and diet
….and much more.
Art Socialization Group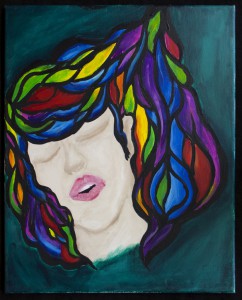 Our art group meets every Friday from 12:30 to 2:30 in White Plains. The group traditionally begins with a discussion during which participants are encouraged to share their "good news of the week." The discussion helps to loosen everyone up and get the creativity flowing. Then the activities begin: paints, pens, markers, crayons, and canvases come out and everyone gets to work.
What happens next can be truly amazing. Emotions, sometimes long-buried, get expressed on canvas. Friendships and connections are formed over paint brushes and ink. Talents long-hidden are found. Self-esteem is built and fostered. Clients previously closed to the world around them take huge steps forward. Through art, they communicate. They socialize. They look inside themselves and in many cases, they begin the long journey toward healing.
You can view additional art work in our online Art Gallery.
Creative Writing Socialization Group
Writing Group takes place every Thursday from 12:30 to 2:30. Journaling is a universally accepted therapy technique for exploring ones feelings and working through many types of issues. But it's not that easy. Many clients want to write by they don't know how. They don't know what to write. That's where writing group comes in.
The writing group is also a discussion group. Clients get together and bounce ideas off one another. We show videos and use the content as the basis for writing projects. We  expose them to all sorts of different types of writing from non-fiction to fiction and even poetry. We talk about what makes people feel comfortable and what makes them feel uncomfortable and encourage them to write it all down.
Creative Writing/Movie Socialization Group
Thursdays, 12:30-2:00 in White Plains
Facilitator: Cheryl Thompson and Sharon Perry
The writings that come out of this group are tremendously powerful, sometimes cathartic and always enlightening. It gives people an opportunity to express themselves in a non-threatening way and provides an outlet for some pretty strong emotions. Here's just a sample:
The Darkness of the Black Heart by Thomas
It is not depression,
It is despair that made him plunge deeper into his heart.
A civil war was being raged as
He battled against his mental illness.
Did he win or did he lose?
Is that victory in Death?
Or did the flames of sorrow consume him?
Hell is right here.
Hell is when pain and suffering are your teachers instead of
Love, Kindness, and Compassion.
My heart is dark from mental illness.
My mind clouded with sadness to avoid a total civil war.
I am on the road to all.
The road to the same source,
The road to Freedom.