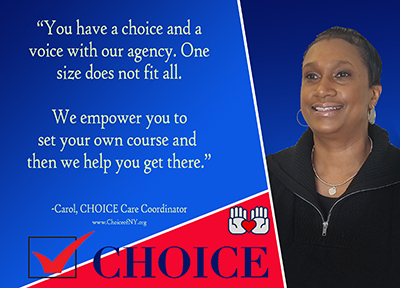 Care Management
The purpose of care management is to assist eligible consumers in identifying, obtaining and maintaining the range of services and programs that help promote a satisfying life in the community.
"I have been through so much in such a short period of time, and CHOICE was the rock that I leaned on for help. My worker helped me to get into the MHA of Westchester Housing. My worker was supportive throughout the entire process. In addition to getting me housing, he helped me move into the apartment as well. He was my guardian angel and I thank CHOICE for that."
Ms. R — October 2, 2011
We Work Together As a Team, So You Can Reach Your Goals
Clients are assigned to care managers after a Single Point of Access (SPOA) application is accepted by the County Department of Community Mental Health.
Unlike CHOICE's peer advocacy and homeless outreach programs, Care Managers will meet with you on a regular schedule: usually two face-to-face meetings per month, primarily in the community. A service plan is developed which specifies what your goals are and how we are going to attempt to meet them.
Service plans vary from person to person. One client may wish to secure stable housing in the community while another may want assistance in obtaining a learner's permit in order to get a driver's license.
Care Managers Are Trustworthy Communicators
Although they are not clinicians, Care Managers play the important role of liaison between you and your treatment providers. In essence the care manager can act as a spokesperson for you, expressing concerns and negotiating for a treatment plan that works for you and is agreeable to all those involved.
A Care Manager can function as a support, a sounding board, a resource specialist and an advocate for you, to create positive and lasting change in your life.