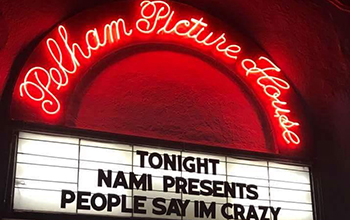 We are so proud of our very own Kimrita Hill for knocking it out of the ballpark in her presentation as a Panelist at the recent NAMI viewing of the documentary titled, "People Say I'm Crazy!"  This award-winning documentary, directed by John Cadigan, produced by Academy Award Winner Ira Wohl and Katie Cadigan, is a film about schizophrenia made by someone with schizophrenia. This film tells the story of a young man, John Cadigan, who develops schizophrenia at age 21 while attending college. Initially devastated by his diagnosis, John eventually finds appropriate treatment and works his way into recovery, with the help of family and friends. The spotlight is also turned on John's family as they struggle to understand John's disease. With courage and love, the family learns how to support John in his efforts to resume living an independent and fulfilling life.
A Shared Experience
After the viewing, NAMI hosted a panel on which Kimrita represented CHOICE. She generously shared her own experiences. In her own words:
After watching this movie, I could identify with many aspects of the John Cadigan's movie as they relate to my own life, as a person who lives with a diagnosis of schizophrenia, and a person who hears voices. My children support me and encourage me to keep striving to be better. That support keeps me healthy for both my family and my job.
I have a few wonderful friends who also understand mental illness and respect my boundaries. They too support me in everything that I do. My home is my safe place. Music is a coping mechanism that  I turn to very often. My work is also one of the supports that keeps me alive every day. It gives me something to live for. In helping others, I help myself. I would like to say thank you to Guy and Stephanie Fessenden for allowing me to come to CHOICE every day in order to continue helping other consumers.  They encouraged me to become a peer specialist, to achieve and obtain my drivers license, and accomplish so much more since I started working at CHOICE. I'd like to thank Guy and Stephanie for giving me a job, and believing in me, and continuing to push me, but let me be at my own pace, and growing into the wonderful person that I am today in spite of my mental illness.
CHOICE encourages people with mental illness to have a place to come to work, because CHOICE breaks the stigma that people with mental illness cannot work. I am proof. I have a mental illness and I deal with 12 voices every day, all day, and yet I still manage to hold my job at CHOICE of New Rochelle. I am coming up on six years now. Thanks to Mark Juliano and Adam black in the County department of OMH (Office of Mental Health). They  always ask me to be on the panel for the C. I. O. T (Crisis Intervention Officers Training). They look past my history and my mental illness to see the person that I am.
Kimrita, thank you for always representing CHOICE with the upmost compassion, empathy, heart & professionalism in all that you do! We are truly blessed to have you as an integral part of our team!
Inspiring Others
And to reinforce just how special Kimrita is, we'd also like to share with you a note that she received from a doctor at Montefiore who heard her speak.:
Dear Kimrita,
I wanted to let you know personally how much I appreciated meeting you and how powerfully your advocacy affected me. In our panel discussion you said a couple times that you, unlike the rest of us did not come from a highly educated background, a family that could support you when you were overtaken by your symptoms, and the financial security to at least keep a roof over your head. Your ability to pick yourself up probably more times than you can count, manage your symptoms in a self-compassionate way, and be the advocate that you are is nothing short of remarkable.  You were the real star of the panel.
Please let me know if I can ever be of assistance to you in your advocacy work or otherwise. I am your servant. You are the best!!!!
Sally (Sarah) Ricketts
Medical Director, Behavioral Health Integration and Rehabilitation Management
Montefiore CMO
We concur! Kimrita IS THE BEST! XOXOXO