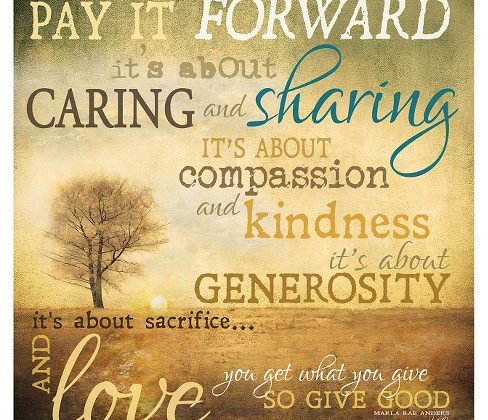 A Smile & A Good Deed Go A Long Way
In our latest post, we offer up a guest blog from Elizabeth Pedley, aka Sylvia Forrest, author of A View From My Window, a book of wonderfully enlightening short stories.
She recently had an interaction with an Uber driver who reminded her just how impactful "Paying it Forward" can be:
I recently traveled to New York City, and took an Uber from the airport to my hotel. The driver was a handsome young man from Bangladesh named Abdul. We fell into easy conversation, and he shared many stories.
Abdul used to drive a regular taxi. It was hard work, and very stressful. Many people disputed the fees, or complained that he had lengthened the trip to increase the fare. Some didn't leave a tip, and others just didn't pay. One night, weary from a long day and eager to return to his wife, he reached to switch his taxi light off. At that moment, a young woman opened the door. "Airport, please."
"I'm sorry, I was just going off-duty," Abdul explained.
"Please? There are no more cabs around, and I really need to get to the airport."
"There's a lot of traffic tonight. Are you sure you don't want to take public transportation or the shuttle bus? Riding with me will take a long time and cost you much more money."
The woman insisted that she wanted to get in the taxi. Abdul noticed the woman was pregnant, and he wanted to make her happy. "It's rush hour. If I put my meter on, it will cost you up to $150. If there wasn't traffic, I would charge a flat fee of $50. I'll turn off my light and my meter, if you trust me that this $50 is a fair amount."
The woman agreed, and over two hours later, they arrived at the airport. Abdul tried to process the woman's credit card, but the swipe didn't work. "Oh no," she said. "If I don't go in, I'll miss my flight, but I don't have the cash to pay you. If you give me your address, I'll send you the money when I get home."
Abdul gave her his address, but experience had taught him that the chances of getting paid were small. "I didn't really mind," he told me, although money was tight, and his wife spent the evening alone because he was so late. "Sometimes, you just have to do the right thing. Doing good is its own reward." He smiled widely. "You know what?  A week later, I got a check from that lady, for $50. She came through."
While I was on line to register at the hotel, my phone buzzed. Uber wanted me to rate the driver. Abdul deserved a tip from me, and also from the lady in Chicago who had at least sent the $50 fare but had not added in a tip. I added what I felt should have been her tip to mine, rounded up, and sent him the huge tip with a five-star rating and a note of thanks. I pictured his beautiful smile, and the thought of it made me smile just as wide. I offered my smile to the man at the desk.
"Having a nice day?" he asked.
"Oh, yes. Just tired," I replied.
"You know what? I see here you have reserved a standard room. I'm going to upgrade you to a junior suite – no charge."
My eyes started to water. "Thank you so much. I'm not here as a tourist, or for business. My mother is having heart surgery tomorrow morning, and I came to be with her. Having a comfortable room will make this easier for me."
"Happy to help," he said, giving me an Abdul smile.
The next night, I relaxed on the sofa in my room after a 12-hour day at the hospital. The open space allowed the stress of the day to dissipate, and I sighed contentedly.
I thought about Adul, and little acts of kindness, and passing on smiles. I'm not going to tell you that this simple chain of events got me a better hotel room, but can you tell me for sure that it didn't?
Doing good is, indeed, its own reward, and even a smile can change someone's day. The wonderful bonus comes when that positive energy is reflected right back at you.

Read more stories about those who help others and look for those opportunities to pay it forward.