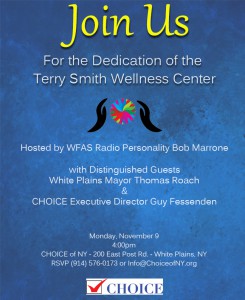 YOU'RE INVITED!
CHOICE of NY will be holding a ribbon-cutting and dedication ceremony on Monday, November 9th at 4pm to officially open the White Plains Wellness Center and name it after agency founder Terry Smith. The dedication, which is open to the public, will include a walk-through of the facility and an introduction to the services that CHOICE will be able to provide at the new facility. Refreshments will be served. Distinguished guests will include White Plains Mayor Thomas Roach and WFAS radio personality Bob Marrone.
The Terry Smith Wellness Center is a non Medicaid-funded, innovative concept in the area of mental health care, expanding the notion of client care to include programs that address the wholeness of a person. The philosophy of recognizing that a client is more than his or her diagnosis opens the door to a host of wellness programs that contribute to healing and provide a foundation for so many who have previously been without access to such activities – activities that make a life fulfilling and complete. Programs offered at the Wellness Center include fitness classes, job training workshops, diabetes management seminars, nutritional coaching, and socialization groups.
According to CHOICE of NY Executive Director Guy Fessenden, "it is our mission to raise the bar in terms of quality of care for those struggling with mental health issues in our community. So often these people are faced with sterile institutional environments that do little to promote healing. By providing a welcoming, nurturing, and stimulating environment, we hope to meet our clients with compassion and an understanding that gives them a sense of hope and fosters progress. The Terry Smith Wellness Center is our attempt to reach more people on a more personal level so that then we can more effectively address the concrete issues such as making sure people have access to benefits, housing, jobs, medications, healthcare, etc."
Terry Smith founded CHOICE in 1994. A college educated professional herself suffering from mental illness found it incredibly difficult to obtain the benefits and services that she needed and was entitled to and which she needed to get on the road to recovery and survive. The attitudes of the people who were supposedly attempting to help her obtain these benefits and services was particularly troubling to her. She felt judged and belittled, feelings that certainly didn't contribute to her recovery in a very positive way. After she recovered and was able to move her own life forward, she decided to turn the frustration she had experienced into something positive – founding the program that would eventually become CHOICE of NY. The agency has been run based on her mission of compassion and her philosophy of per advocacy ever since.
RSVP for the dedication ceremony is not required but would be greatly appreciated. Please email us at info@choiceofny.org or jmaner@choiceofny.org.
What: Dedication of the Terry Smith Wellness Center at CHOICE of NY
Where: CHOICE of NY, 200 East Post Road (lower level), White Plains, NY 10601
When: Monday, November 9th at 4:00pm
Contact: For more information, call JULIE MANER, Marketing and Communications Consultant at 914-393-3337 or email jmaner@choiceofny.org.