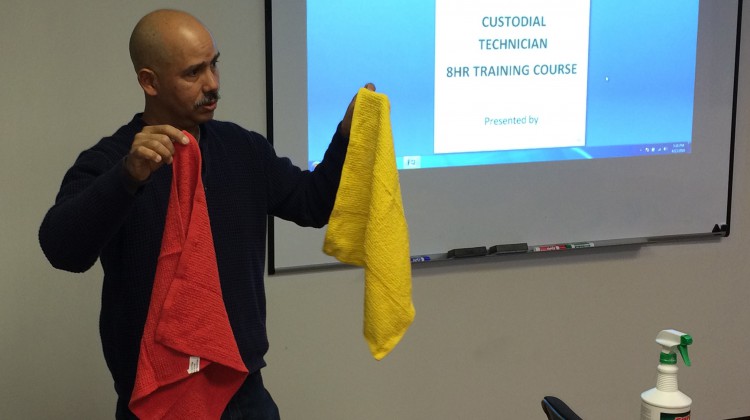 We are proud to introduce an innovative program designed to create opportunities for employment for those struggling with mental health issues. Working hand-in-hand with Dwight Reyes, owner of CBM Cleaning, Inc., we recently launched a Custodial Technician Certification Program that will result in employment for CHOICE clients and steady small business support for CBM.
Committed to Training and Employing Clients Who Complete the Program
The curriculum for the course was developed by Rudy Borges and Reyes, who filmed a series of instructional videos and established the baseline of knowledge required by an employee in the office cleaning services industry. At the end of the 8-hour, 4-week course, participants will be certified by Reyes and employed by CBM Cleaning, Inc.
CHOICE of NY will provide a support team including a job coach who will work with CBM to ensure the employee continues to learn, and remains a positive and consistent member of the CBM Team. In short, CBM will have a steady pipeline of well-trained employees, a support system to ensure the timely and consistent performance of these employees, and a back-up plan. "One of the biggest challenges my business faces is the reliability of my employees," said Reyes. "Admittedly, sometimes I have issues where employees just don't show up for the job. CHOICE  will help me handle these situations by providing immediate backup and by physically transporting employees to job sites so I can rest easier that my customers are receiving the service they deserve. This is a win-win for everyone."
The brainchild of CHOICE Jobs Program is Administrator Rudy Borges. The Custodial Technician Certification Program is the first time a local business has partnered with a non-profit to create opportunities for those who are struggling with mental illness in the local community. "Our clients come to us for support," says Borges. "Most of the time, not only are they struggling with their mental health issues, but they are also battling against the stigma of mental illness in their communities. Their lives have spiraled downward and often, despite a desperate desire to do so, they are unable to obtain the employment they need to support themselves… to create the basic foundation they need to live dignified and meaningful lives. Most businesses are reluctant to give them a chance. We applaud CBM for stepping up to the plate. Dwight is willing to work with us not only to give these people a chance, but to prove that the employment of our clients will only serve to strengthen his business and the level of service he is able to provide to his customers."
The Custodial Technician Certification Program is an extension of CHOICE's comprehensive Jobs Support Program that includes running jobs readiness workshops, helping clients obtain the right clothes for interviewing, and providing transportation to job fairs and interviews. CHOICE will even go so far as to join clients in interviews or wait in the lobby to help reduce job application anxieties and CHOICE continues support after a client obtains a job.
Program Details
What: Custodial Technician Training Program
Where:  CHOICE of NY, 200 East Post Road, White Plains, NY10601, Phone: (914) 576-0173
When: Every Wednesday from 4pm – 6pm
May 11th is the last class for the inaugural group of students.
May 18th will be the awarding of the Course Completion Certificates for the inaugural group of students.
Contact: For more information, call Rudy Borges at CHOICE at 914-576-0173 x226