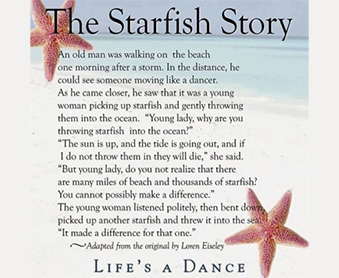 We recently rang the GOOD OUTCOMES BELL for two of our clients. We ring that bell whenever we can, because it reminds us of the small victories and the differences we make in people's lives every day. We believe in the Starfish!
CHOICE, Inc.
420 North Ave, 2nd Floor
10801
New Rochelle, NY
(1) 914 576 0173
(1) 914 576 0178
info@choiceofny.org
Sara
Sara was a citizen of Vietnam living in the United States on a temporary green card. She developed a psychosis and began hearing voices that haunted her. She was scared, sad, and alone. On top of it all, her green card had expired, she was in jeopardy of being deported and she had lost all of her benefits. When CHOICE heard her about her situation, they got to work, connecting her with the mental health counseling she needed. She stabilized through counseling and able to hold down a job again, her green card got renewed. Then CHOICE went to work on her benefits. The medication that worked for her cost a whopping $800 and pretty soon, she couldn't afford it anymore. Without it, she became sick again. With CHOICE by her side, she applied for and received Medicaid benefits that provided her not only with the medication that she required but also the opportunity to receive the medical, dental, and eye care she needed.

We rang the bell for Sara on the 6th anniversary of her gainful employment and stable life. She's doing great and thriving and she says, "I was lost but now I am found. I cannot forget what CHOICE has done for me. I recently got Medicaid for all my and medical and mental health needs. My case worker Evelyn is my angel and everyone at CHOICE are my heroes."

Sara, WE RING THE BELL FOR YOU!
CHOICE, Inc.
420 North Ave, 2nd Floor
10801
New Rochelle, NY
(1) 914 576 0173
(1) 914 576 0178
info@choiceofny.org
Bobby
We met Bobby on the streets. He ended up there simply because he didn't have the capacity to fill out a form. We found out that he had had major learning disabilities all his life. He couldn't read or write and because of that, it was impossible to navigate the system so he just gave up. We took him by the hand and assisted him in filing the documentation he needed to file for his annual re-certifications for food stamps, section 8 housing, and Medicaid. He so desperately wanted the help and was willing to work with us every step of the way. He just didn't have the mental capacity to work his way through the details by himself. Tasks like these can seem impossible for someone with a mental illness. It's just too hard.

Now Bobby is doing great. He has food on the table and a roof over his head. All we did was provide the guidance. He did the heavy lifting and is moving forward with his life. And we are so proud of him.

Bobby, WE RING THE BELL FOR YOU!
EVERY STARFISH COUNTS!