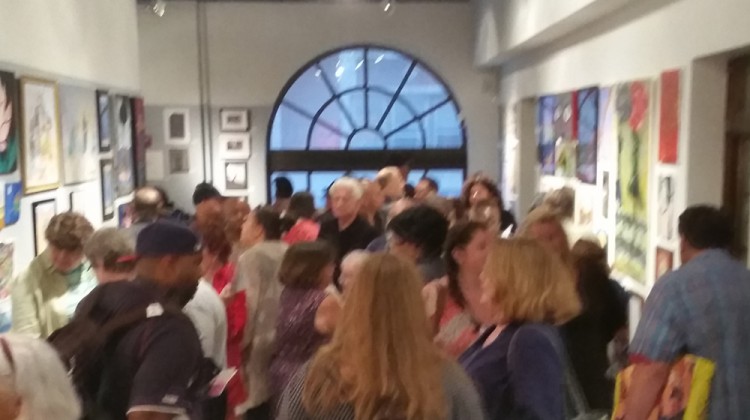 Our Art Group was proud to participate in Visions 2015, an exhibition hosted by ArtsWestchester and organized by Rockland Psychiatric Center. Over 200 people attended the opening reception viewing more than 150 artworks by more than 70 artists who are recipients of mental health services in Westchester County.
The New Kids on the Block
Guy Fessenden, CHOICE Executive Director summed up best what this type of event means to the mental health community:
"We are the new kids on the block, recently opening up a new 6,500 square foot facility in White Plains. And as the new kids on the block, we made friends. And we made some really good friends – Arts Westchester and Rockland Psych –  and they were so kind to include us as part of this wonderful event. We do mostly concrete stuff. We help people to get jobs. We help people to get housing. We help people to get benefits like Social Security and food stamps and stuff that's really essential to life… but whenever we have a couple of extra nickels and we can do something a little bit special, we want to create art. Because it's so important to recognize all of the qualities that go into making a complete person. It goes beyond housing and beyond a job. It involves all of the things that we do every day to feel good about ourselves… and hobbies and interests like art are all part of that. They make life fulfilling and complete – so to be able to participate in something this fantastic makes us grateful. We thank all of you for welcoming us and allowing us to participate."
Several pieces of artwork were sold during the evening and many more during the entire 7-day exhibition. The proceeds from the sales were given directly to the artists. Internationally renowned pop artist Charles Fazzino sent his staff to the event to conduct an interactive workshop and the resulting artwork was auctioned off to benefit the participating agencies.
We combined the VISIONS 2015 opening reception with a grand opening celebration for our new White Plains facility. We were grateful to The Journal News for the article they published the following day.
It was truly a wonderful evening and the exhibition was a great success. Looking forward to Visions 2016!
Join Us for Arts Fest
Next up for our art group is The New Rochelle Arts Fest put on by the New Rochelle Council on the Arts. Our entire art collection will be on display at the Charles Fazzino art studios Saturday and Sunday, September 26th and 27th. We'll have over 50 pieces on display and all of the work will be available for sale. Join us at 32 Relyea Place in New Rochelle from 11am to 6pm each day. See you there!